GIT Information Center
Jewelry Designs: Inspiration with Added Value
---
Today's consumers are bombarded by an endless variety of trends like countless waves consistently breaking upon the shore. Technological innovations successfully capture people's attention in all aspects of life, bring about rapid changes and disrupt the old solutions that no longer offer added value or serve consumers' demand. Many industries, including gem and jewelry, are obliged to adapt and transform. However, they are not only adapting to emerging "sciences", but also applying "the arts" to add value to their products.

The Art of Gem and Jewelry

Most gem and jewelry companies mainly focus on decreasing production cost and increasing productivity, which is just a minor aspect of the whole manufacturing process. Could it be better if companies aim to correct critical errors in their production and add value to their products instead? There are a large number of gem and jewelry companies around the world, but only a few are well known to the public. One of the factors that differentiate these brands is their unique designs. Many surveys reveal that good product design is a priority for Millennials, the largest group of consumers in today's market. Therefore, design is one of the most essential and indispensable elements in all kinds of products, from clothing and jewelry to electronics and home decoration items.

Apart from marketing and production, design is the key to branding. Why do customers find products from Tiffany & Co. so appealing? Or why is David Yurman an influential powerhouse in this industry? The reason is that they always place emphasis on product design. In 2019, the top 15 designer jewelry brands are as shown in the following picture.

No. 1-15 from left to right; the top row: Tiffany & Co., Cartier and BVLGARI; the second row: Harry Winston, Van Cleef & Arpels, Chopard and David Yurman; the third row: Buccellati, Boucheron, Hermes and Chanel; the last row: Dior, Mikimoto, H. Stern and Graff
Telling stories about each piece of jewelry, tracing its origin and historical background and presenting its connection with nature, animals, culture and traditions are all emerging trends, being developed in line with Millennials' preference for one-of-a-kind products and services. The concept of the "must-have," which reflects their consumption behavior, underlines the importance of unique product designs for both international and local brands. Designers are assigned the vital role in expressing emotions and conveying concepts through each piece of work with an aim to attract consumers. The following examples will reveal how some of the leading jewelry designers find their ideas and inspirations to fulfill this role.
David Yurman
Bronze Dante Necklace, image from https://news.artnet.com
David Yurman is a living legend and a source of timeless inspiration. He applies innovations and craftsmanship from years of experience to create the world's leading jewelry and watch brand with its own unique identity. He stepped into the world of gem and jewelry since high school by learning how to weld from a sculptor in Provincetown. His love of art led him to meet his future wife Sybil Kleinrock, who shares the same passion. While they were seeing each other, he made a bronze Dante necklace as a gift for her. The necklace brought him to the attention of a gallery owner, who requested him to create more necklaces in the same design. They were all sold out.
After getting married, the Yurmans launched a New York-based jewelry business together in 1980. Drawing inspiration from art and design, their real intention is not to make business, but to design beautiful jewelry for everyone to wear. The black and white tone is often used in the brand's image and has become its well-known signature to the present day.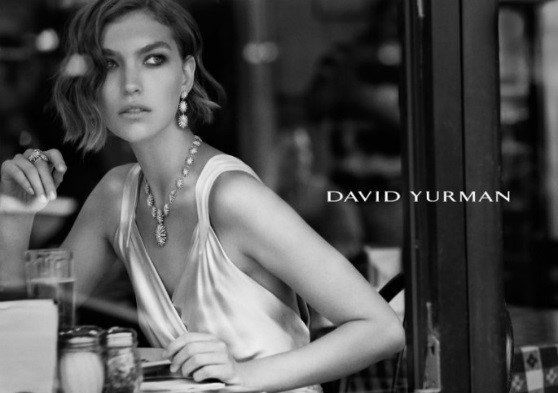 Image from https://www.mainstreetroi.com
By offering affordable fine jewelry, David Yurman caters for various groups of customer regardless of their purchasing power. For example, its bracelets range from 750 to 3,000 US dollars, depending on the types of gemstones, while maintaining the same standard of material quality. The brand's most outstanding signature is the use of cables made of small metal wires being intertwined together. Yurman drew inspiration from his childhood experience when he played in the woods and found huge trees encircled with strong intertwined vines. He felt free and in harmony with nature when he swung on them. Therefore, his cable jewelry is an effort to connect the primitive world with the present one.
The distinctive feature of David Yurman's jewelry, image fromhttps://brombergs.com
Hajime Ando
Hajime Ando is a Japanese designer with strong passion for Roman culture and architecture in Italy. He combines Roman art, architecture and street motifs in his jewelry designs. His attention to details leads to meticulous creation of impressive works. Ando graduated with a major in metal craft before a trip to Italy would change his life forever.
Fascinated by the charm of Italian fashion, architecture, design, films and culture, he spent five years learning Italian language in Japan before moving to Valenza, a town of art. He built his expertise in craftsmanship and jewelry design, and then started his career as a jewelry designer for LUCA CARTI. With outstanding progress, he eventually became one of BVLGARI's seven designers in Rome. His works are a perfect combination of Roman history and modern design.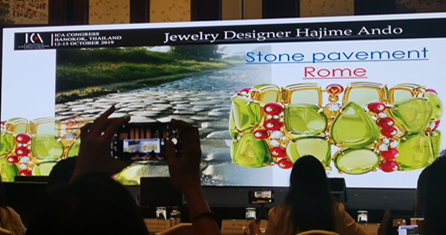 Left: Jewelry inspired by the Colosseum, Right: Jewelry inspired by stone pavement in Rome
After 10 years of working with BVLGARI, Hajime Ando is now a design consultant who develops prototypes for startup brands in Europe and Japan. He has also chosen Thailand as a place to find new design inspirations and plans to create a new brand in Thailand, as well as establish international reputation of "Made in Thailand" products.
Hajime Ando's bangles are inspired by umbrella colors at a night market in Bangkok.
Hajime Ando's advice to those who are interested in becoming jewelry designers is that you should pay attention to everything you encounter, immerse yourself in gem and jewelry trade for thorough understanding of this business and learn from the experts. By this way, opportunities will arise.
Nisan Ongwuthitham
Nisan Ongwuthitam is the founder and owner of Ong Jewelry Design, or NISAN ONG, a Thai brand that receives worldwide recognition. His passion as an art collector of paintings, sculptures, gem and jewelry, as well as his love of design and the need to see its result as concrete objects, have eventually brought him to the world of gem and jewelry. His designs are inspired by important events, symbols, faith and belief in Thai culture, as well as nature, especially wild animals and flowers, which can often be found in his works as the symbols of yin and yang.
He started his business by opening a simple jewelry shop in a department store. One day, his friend in Tanzania sent him a rough bluish-violet tanzanite which inspired him to create his own work. It was the turning point of his life, and tanzanite would be one of the materials which help him to become famous in the world of fine jewelry.
While his company enjoys strong demand from around the world, Ongwuthitam is aware of a decline in the European market and is now shifting his focus towards Asia, especially China, Hong Kong, Taiwan, Indonesia, Singapore and Thailand, where his brand has a substantial customer base. Meanwhile, the company is still waiting for feedback from customers in the Middle East before continuing its expansion. Every piece of jewelry by Ongwuthitam is exquisitely made by hands as a personalized product, with an average price of 5,000-10,000 US dollars per piece.
NISAN ONG jewelry, images from http://www.nisanong.com
According to an interview by JNA magazine, Ongwuthitam sent his words to those who are interested in entering gem and jewelry industry that what he does is not only about making business; it is his lifelong passion. This career philosophy influences every piece of jewelry he has ever created. You can be lost if you look only at the business side. His jewelry is not made for money but created from his love and devotion to each piece by choosing to follow his instinct rather than fashion trends.
Design is not only about creating concrete objects out of abstract concepts and inspirations, but also the most effective factor in adding value to products. Even though pricing competition is getting more intense, leading gem and jewelry brands still refuse to take part in this price war. Instead, they offer new product designs to attract new customers and maintain old customers' loyalty. This is a better way in comparison with the tactic of price reduction which cannot add value to products and also undermine the long-term interest in gem and jewelry.
References
---
1) Top 15 Designer Jewelry Brands In The World. Retrieved December 17, 2019. from https://www.stylecraze.com
2) Designer discusses roots of David Yurman collection. Retrieved December 12, 2019. from https://www.latimes.com
3) A BOOK FOR COLLECTORS: David Yurman Cable. Retrieved December 12, 2019. from https://www.davidyurman.com
4) The Jewelry Industry's Design Dilemma. Retrieved December 10, 2019. from https://www.forbes.com
5) INTRODUCING HAJIME ANDO: EX-BVLGARI DESIGNER. Retrieved December 9, 2019. from https://artmeetsjewellery.com
6) Creating with passion and harmony. Retrieved December 11, 2019 from https://www.jewellerynet.com
7) http://www.nisanong.com
8) Thai jeweller offers a fresh twist on classic designs. Retrieved December 11, 2019 from https://www.jewellerynet.com
---
---